Breville BEW600XL Hot Wok Review
There's nothing quite like making a quality home cooked meal and having your friends and family rave about how delicious it was. For the home chef who takes their passion seriously, this is something that we all strive for and work hard to achieve.

Although a lot of our results in the kitchen come from building skills and working hard, we also need to make sure we're using the best appliances and utensils. Working with inferior products or handling the food with subpar appliances means a less tasty meal and more energy exerted just to get dinner on the table.
 
When you're creating something as special as Asian inspired food, the need for the right cooking supplies is even more important. Any good Asian dish needs a quality wok to work with, but if you're not into the traditional style of wok and want to add some power and efficiency to it, the electric wok is the way to.

For those who take their cooking seriously and like to work with the biggest and best, investing in an electric wok like the 
Breville Hot Wok
 just makes sense. This is a serious kitchen appliance capable of so much more than other electric woks on the market, and it will amaze you with just how much it can help you achieve when you cook.
Breville is one of the most trusted names in kitchen appliances the world over, and you'd be hard pressed finding a home that didn't have at least one of their products. Whether you need to boil some water for a cup of tea, blend up a soup, or cook a stir fry to perfection, their range of innovative appliances will help you achieve it with ease.

The Breville Hot Wok is considered one of the best electric woks on the market and although it sits at a higher price range than others, every cent is worth it. This unique wok has the ability to heat up the entire pan to give you even cooking that emulates the classic wok style, but with the added bonus of power.

What makes this wok so special is its features, along with the durability that this brand is known for. When you make the choice to invest a little more in order to get the best on the market, you'll be getting features including:
15 precision heat settings to suit all styles of cooking

Maximum temperature of 425 F

1500 watts of power

Unique heating element keeps the entire pan hot

6-quart capacity to feed the whole family

Stainless steel base with a die-cast, non-stick wok bowl

Dishwasher safe wok and lid for easy cleaning
There are far too many features to list, but Breville has managed to add them all without making a complicated appliance.
 
This is one of the only electric woks on the market that gives you such versatility with how you can cook. Thanks to the unique heat settings you'll be able to do a variety of things including searing and frying, all with just the one appliance.

Although you can expect to pay a little more for the Breville Hot Wok, you'll feel straight away that it was money well spent. The sides of the wok all heat up with even distribution just like a traditional wok, and it is so heavy duty that you know it's going to have a home in your kitchen for years.

The only problem that people seem to have with this wok is with the undercoating. This non-stick surface has been designed to make it easier to cook but people have found that it scratches and comes off quite easily. A more durable surface would have been ideal and it means you'll have to take some extra care when cooking and cleaning.
 
If you're ready to take your cooking to the next level, the Breville Hot Wok is available for a great price on Amazon. Rated as their top choice for an electric wok, they offer a special price of around $125 for the wok which is far cheaper than you'll find elsewhere.
Another bonus of shopping online with Amazon is that they'll send you the Hot Wok to your home free of charge. Members of Amazon Prime will get even better value with free express postage which means you could be cooking on your new Breville in just two days.
The Breville Hot Wok
 comes with a one-year limited warranty, just like all of their other appliances, so you might be looking for more than this.

Amazon has created their Protection Plan for exactly this reason, and you're able to get an extra four years of coverage for around $12 when you shop with them. This alone is the best reason to purchase from the online marketplace and makes your purchase even more worthwhile.
There are plenty of electric woks on the market but none that offer the power and authenticity of the Breville Hot Wok. This will help you create the most real tasting Asian cuisine but with all the modern comforts you'd expect from an appliance, so it ticks all of the boxes for what the modern kitchen needs.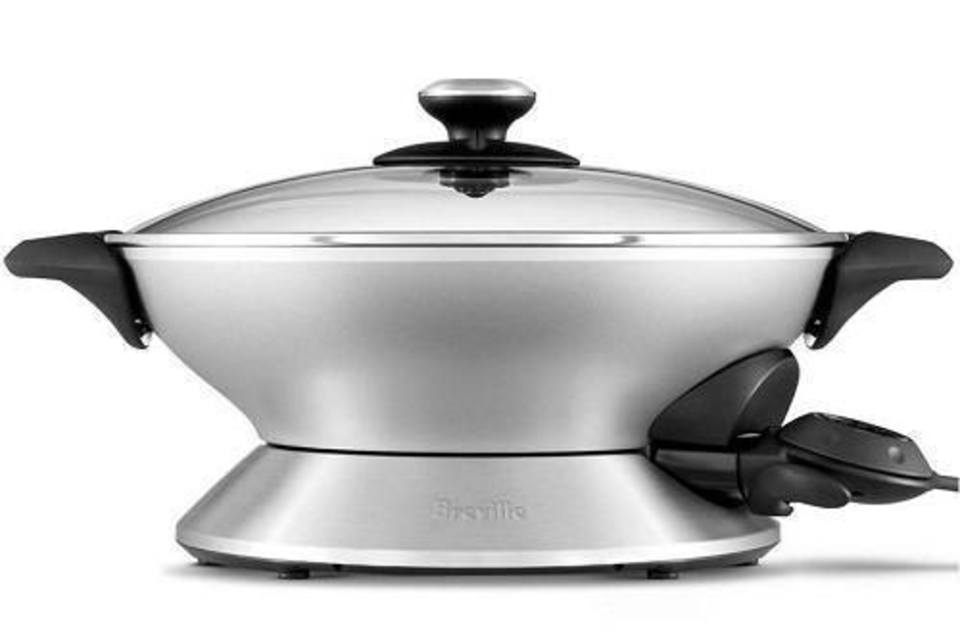 If you've ever owned a Breville appliance before you'll know just how convenient and well made they are, and the Hot Wok is no exception. To transform the way you create Asian cuisine at home, click here to get yourself the Breville Hot Wok today.